Autumn is in full swing, so that means there's no better time of year to curl up for a movie marathon to get you in the fall mood. Whether you're looking for laughs, romance, or some fun frights for Halloween, our list of the 10 best movies to watch in the fall has a little something for everyone.
You've Got Mail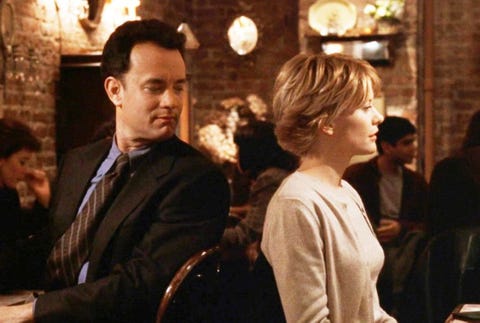 "Don't you love New York in the fall? It makes me wanna buy school supplies. I would send you a bouquet of newly sharpened pencils if I knew your name and address." Bookshops, pencils, New York autumn, and Meg Ryan in an array of neutral-toned sweaters? If that doesn't get you in the fall mood, I don't know what will.
Hocus Pocus
With fall comes October, and with October comes Halloween. And no Halloween season is complete without the quintessential 90s film, Hocus Pocus. This witchy classic is fun for the whole family.
Dan in Real Life
A New England family gathering and a bookstore meet-cute set the tone in this fall-set film starring Steve Carrell. With one part drama, one part romance, a lot of laughs, and maybe even a few heartwarming tears, this film is best viewed with a cozy blanket and a cup of hot apple cider.
Dead Poet's Society
We love the nostalgia of the back-to-school season, and few films capture it better than Dead Poet's Society. This film stars Robin Williams as a controversial, yet inspiring English teacher at an all-boys New England private school in the 1950's. All the changing leaves, tweed jackets, and eloquent poetry included.
Matilda
A gifted girl uses her special powers to make life a little better for everyone in this magical film based on a classic Roald Dahl children's novel. If you grew up in the 90's, this was probably your favorite film at one point – and you'll probably find it still is.
Harry Potter
Chilly weather got you stuck indoors? Make it a movie marathon weekend with the entire Harry Potter series. Invite your friends and make it a themed party – costumes required, obviously!
Fantastic Mr. Fox
If the humorous tale (or should we say TAIL) of family, feasts, and foxes doesn't get you in the fall mood, then the film's warm, autumnal color palette sure will. Plus, you can't go wrong with the voices of Meryl Streep, George Clooney, and Bill Murray.
Little Women
This on-screen retelling of Louisa May Alcott's beloved novel has to go down as one of our favorite movies for the holiday season, as much of the story takes place during the fall and winter. Plus, since the new film will be coming out in December, now is a great time to get acquainted with the March girls in the 1994 version.
Remember the Titans
For many, the autumn months is all about football season – and Remember the Titans is one of the greatest feel-good sports films of all time. We love Denzel Washington as an inspiring football coach navigating his team through the racial integration of the 1960s.
Twilight
Okay, okay, I know – this cheesy novel-turned-movie may be a controversial pick, but hear me out. The gloomy overcast setting of the Pacific North West, and a budding teen romance in the world of the supernatural make this series the perfect movie marathon for a weekend in.
Looking for more fall inspiration? Check out our list of Best Fall Candles, and 9 Netflix Shows to Binge this Fall! Or you can follow us on Spotify and check out our Fall Tunes playlist!